To the law and to the testimony, if they do not speak according to this word, it is because there is no light in them." Isaiah 8:20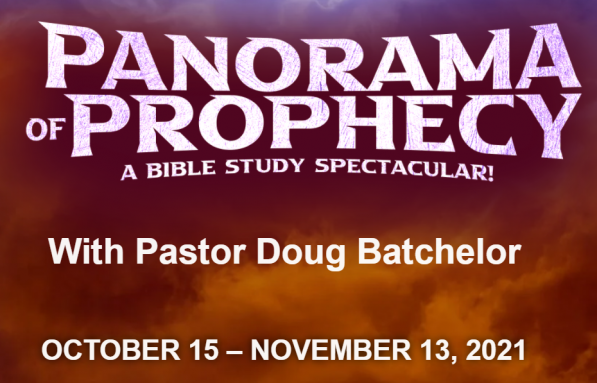 The Palmdale Seventh Day Adventist Church is happy to Support the Amazing Facts Ministry in Revelation Seminar and Panorama of Prophecy!
Please click below to view live at 7:00pm nightly as well as video archives of these events.
AF Revelation Seminar Archives
Our planet, nation, and community face these incredibly turbulent times--political violence, social unrest, economic meltdown, and a deadly pandemic--people everywhere are asking, "Is all this chaos mentioned in Bible prophecy?"
If you are one of the growing numbers of people asking what the Bible really says about current events, Panorama of Prophecy! will answer all your questions and more! The incredible, eye-opening truths you'll learn about the last days will bring peace and hope to your heart, so please join us!
And there will be ...on the earth distress of nations, with perplexity..Mens hearts failing from fear and the expectations of those things which are coming on the earth
Then if anyone says to you, 'Look here is the Christ!' or 'There!' do not believe it. For false christs and false prophets will rise and show great signs and wonders to decieve, if possible, even the elect. See, I have told you beforehand. Therefore if they say to you 'Look, He is in the desert!' do not go out; or 'Look, He is in the inner rooms!' do NOT believe it
If you would like to find out more about the end times, sign up below for this seminar and receive communication regarding this event!
Below are some topics that were discussed during this event!
Revelations Rapture/Second Coming
Earths Last Empire/Daniel 2
Did God create the Devil/Origin of Evil
Ultimate Sacrifice/Salvation
The Unchangeable Law/Law and Grace
The Magnificent Kingdom/Heaven
Rest of Our Work/Sabbath
The Richest Caveman (AM Service)
Bewitching Spirits/Death (PM Service)
Final Firestorm/Hell 
The Devils Dungeon/Millennium
Cleansing the Sanctuary
Born in River/Baptism
Bowing to the Beast/Anti-Christ (AM Service)
Marker for Death/Mark of the Beast (PM Service)
The Woman of Truth/Remnant Church
Daughters Deadly Dance/Babylon and USA
Babylon's Buffet/Health
The Kings Ambassador/Christian Life Style
The Goal of the Godly/Commitment
---
Our mission is to know Jesus and make Him known!
Much  prayerful study has blessed our church to give greater insight into prophetic truths so important for consideration at this time in history.  Truths that have directed souls to the foot of the cross. Gain clearer insight and study further with a peek into one of our powerful seminars. 
 
Resources:
Study Online Courses & Resources
Do you wish to grow closer to God so that you can be ready? Do you want to give your life to God and know more about the truth? If so, click below to be contacted by one of our members from the Personal Ministry team to start the journey.