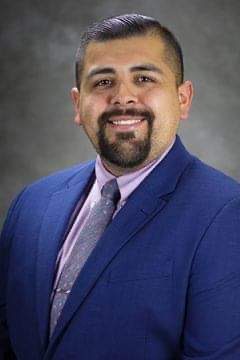 Pastor Isaac Nevarez is a home grown Angelino, he was raised in a Christian home with two loving parents. Sometimes all a parent can do is to guide their children to know God and that is what his parents did.
Like many adolescents, Isaac did not wish to stay in the church because he saw hypocrisy and the lack of love found in the churches he attended.  Isaac left the church for some time and was on a search to find a church that showed love, acceptance and held the truth of the Bible, one he considered to be the "REAL" church. After all his efforts in searching for the truth, God lead him right back to the the Seventh day Adventist faith.  Although he came back to the church, Isaac was still struggling in life, felt lost and did not feel he was worthy of anything he had. The devil has a tendency to make individuals feel lost and alone and attack when they are most vulnerable. Isaac was being attacked but by the grace of God, he overcame the attacks and God won.  
Isaac rededicated his life to the Lord and let God have ALL of his life. He asked God to show him the way and the path in which God had planned for him. Before long, Isaac was on a plane to study Theology in the Philippines. This was a big shock for him to leave California and his family, but through prayer and faith, he was determined to follow the path that God had for him. One Bible verse that kept Pastor Isaac going was Philippians 4:13 - "I can do all things through Christ who strengthens me" This verse has kept Pastor Isaac going when times have gotten tough. The devil tried to convince him to quit multiple times but God kept reminding him of this verse and that is what motivates him and reminds him that God will continue to be with him, guide him and give him strength.
In 2014, Pastor Isaac graduated from the Adventist University of the Philippines and has been working for the Southern California Conference for the past 6 years.  Pastor Isaac has a passion for the youth and young adult ministries. He believes that they truly are the future of the church and they should have the guidance, direction and care we were tasked to provide to them. He also loves giving Bible studies, making disciples for Christ and showing the LOVE of Jesus Christ. 
Come visit the Palmdale Seventh day Adventist Church when you are in the Palmdale area. Pastor Isaac would love to meet you all.. God bless.
Isaac.nevarez@sccsda.org
(323) 353-6132